Araromi beach; The adventure through a coastline.
Have you ever been on a bike journey through the shoreline to travel interstate?
I have and it was spontaneous, adventurous and probably the highlight of this month adventure so far.
After getting back from a trip on Tuesday, one of my media friends invited me to join her on a trip to Araromi beach. Haven't heard about this adventure from other travel bloggers, I thought why not!
The Beginning;
We have read somewhere that you can journey from Lagos to Ondo using a bike via the shoreline.
The only time I have seen people journeying on the coastline was at Ibeano beach, Akwa-Ibom and I constantly wondered where they were going to.
Realizing I could have the same experience, steered up my excitement.
The Journey and How to get there.
I took a BRT from Oshodi BRT terminal 3 for about N500 to Ajah under-bridge. From there I boarded another bus going to Eleko Junction, which is on your way going to Epe for a price of N400
From Eleko Junction I boarded another bus going to Eleko beach Junction, which is a popular bus stop if you're going to any of the beautiful beaches in the area and it cost N100.
But I didn't further into the journey until the next day because my other travel buddy had suggested we stay at Villa resort for the night.
The next morning; The Day of the adventure.
Beforehand, we had called one of the locals in the community to send us a direction on how to get there. Which was simply straightforward.
We continued our Journey from Eleko beach Junction and took a bus headed to Folu town.
Folu town is an hour journey from Eleko beach junction journeyed through the Trade zone and
La-Campagne resort route, it felt like a never-ending journey because it was our first time.
Arrival at Folu Town;
Immediately we highlighted from the bus, we were surrounded by bike men like flies on a spilt of malt on the ground.
They could tell where we were going to.
Araromi Beach! they screamed at us. After back and forth we finally decided to go with two of them.
Price for the bike.
N4,000 for two people and N2,500 per person.
Was this worth it? Stay with me.
It didn't start to make sense to me until we got to the bank of the river, the fresh smell of the ocean, the wind from the tall palm trees and the sound of fishermen at the ocean made it all a reality.
Damn! I am about to go on a breezy, wavy bike ride for about 50 minutes on the shorelines. Mad interesting.
After trying to wave the beach and splash of water by my bike man, we made it to the Araromi town, Ilaje community to meet our community guide.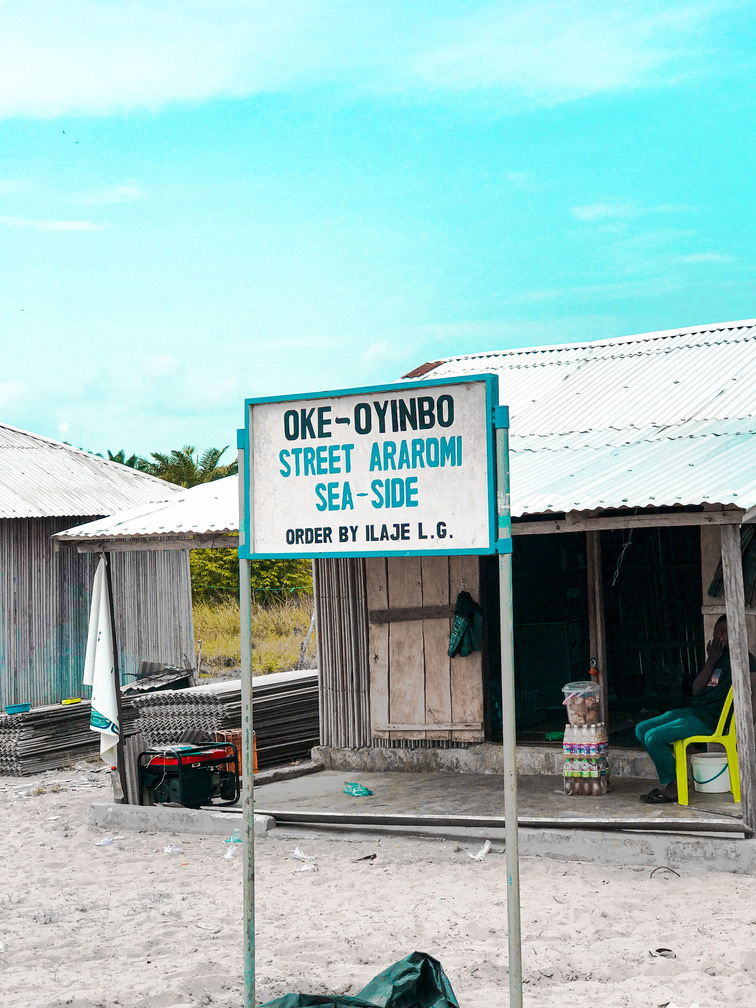 Paid off the bike men and walk through some lush green, beautiful planted palm tree, blue lakes and some well-structured farms to the open of Araromi beach view.
It was a beautiful sight to behold with the long white sand in view and the almost sky bluish water.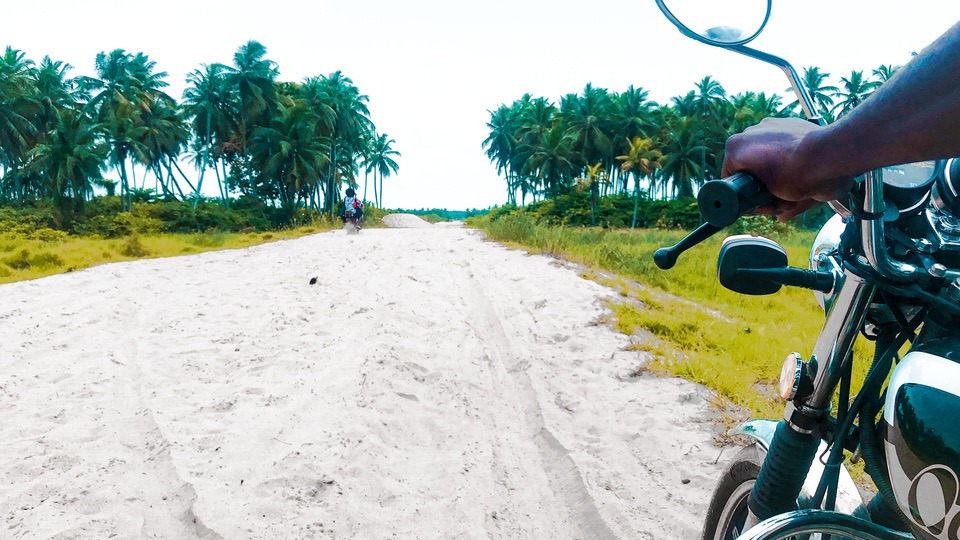 The most interesting part is seeing the different canoe belongings to fishermen at the beachside and also hearing some of them sing as they push their boat filled with fish out of the ocean. The first time I experienced such up close was in Ghana so it was a delight.
Trust a bunch of travel bloggers travelling together, everybody trying to create that content while enjoying the beauty of the moment.
I had a great run on the beach shoreline barefooted, I enjoyed it until I ran on the hot sand and got my feet burnt ?.
Enjoyed the view, relaxed and also curate a beautiful content for my readers/viewers.
PROS:
Before this trip, I had no idea that there's such a wonder in Ondo state, we know that beaches are to Lagos has Rocks and Mountain is to Ondo, now having this discovery is an additional experience to exploring Ondo state.
Tired of crowded Lagos beach and you want to experience travelling through bikes on the shoreline. Then It's worth it.
CONS:
The beach surroundings are quite dirty, I was expecting something different but like every other beach, they couldn't keep this one clean also.
Hopefully, they start putting this into consideration.
You have to leave early if you plan to return on the same day. Once the river is said to be filled up, driving through it is a bit difficult.
Overall, it was an amazing experience for me and I think everyone should experience it.
Before this post, did you know there is a beach in Ondo state? If not, would you be adding it to your bucket list?