The 9 Best 2021 Vacation Rental Apartments for Travelers In Lagos
Lagos state is Nigeria's economic/commercial hub, as well as a hotbed of potentials for viable business ideas and enterprise. It is also a place of fun, tourism and a cultural melting pot where the best of local entertainment mixes with continental enjoyment.
So if you are thinking of coming to Lagos anytime soon, or if you're already in Lagos but you need a place where you can recharge alone or with family, friends and a loved one, you should consider these 9 vacation rental apartments listed below in no particular order.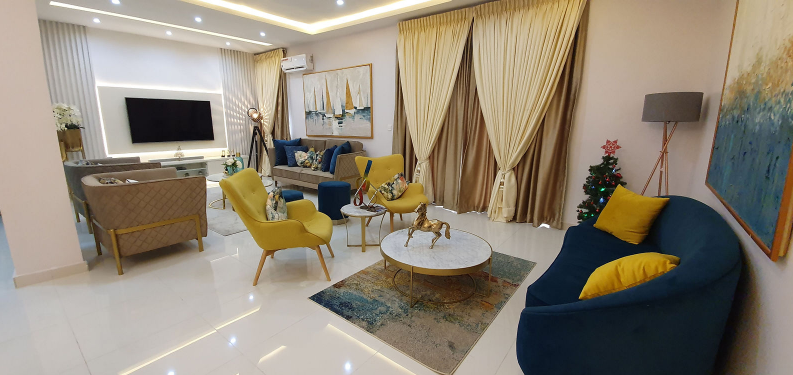 If you are a traveller looking for a sophisticated vacation rental apartment in Lagos, The Daniel's Luxury Home is among the best options for you. Even if you are a Lagosian looking for the perfect getaway in comfort and total peace of mind, this 4-bedroom home in Lekki Ikate is perfect for your needs.
The Daniel's Luxury Home is laid out in three floors, with an ultra-modern 65-inch TV in the living room, a king bed, walk through wardrobe, a 55 inch TV in its master bedroom amongst other amenities to ensure comfort and an unforgettable experience.
It is a pet-friendly short let apartment that grants easy access to Admiralty road, Lekki Phase 1, and a bunch of restaurants such as Sailor's Lounge, Circa Lagos; and other fun places like The Lekki Leisure Lake and The Nike Art Gallery.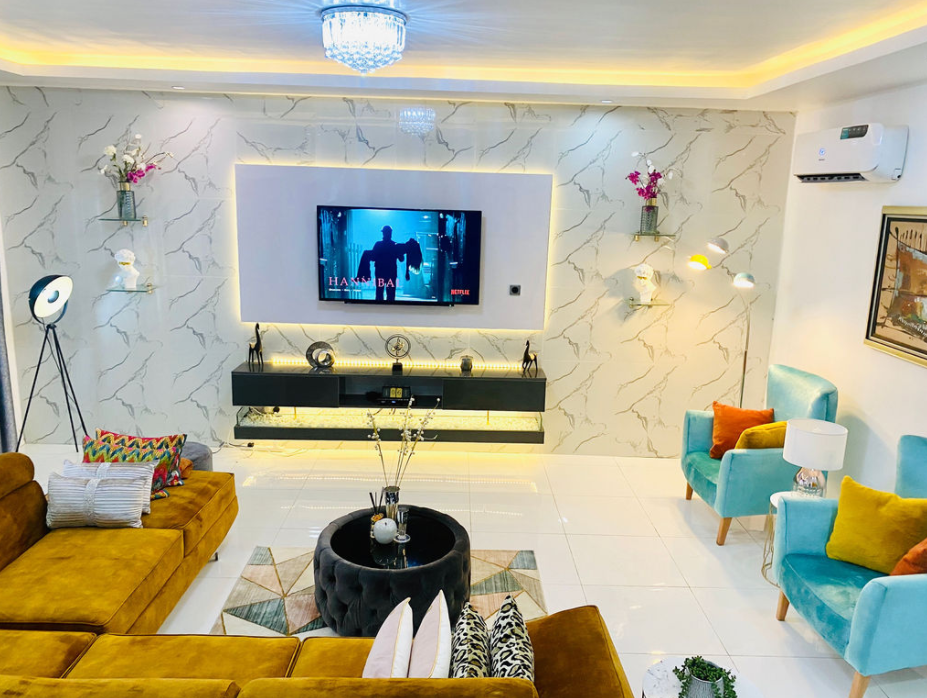 Embrace the comfort and total privacy of this fabulous townhouse in Lekki, Osapa. Part of the famous Shortlethomesportfolio, Stephen's Luxurious home is the perfect haven for you if you're looking to have a luxury home for yourself, your friends and family during your vacation.
They have all the amenities to make your stay a convenient one. From functional air conditioners to washing machines, a spacious kitchen with utensils, free parking space, quality bed and soft pillows, a breath taking living room, etc.
With quick access to major roads, spending time out at the finest restaurants, bars, and fun places won't be an issue. Speaking of places to visit, The Grand Grill Cafe is close and totally worth checking out.
3. Ope's 5 Star Short let Apartment in Ikate, Lekki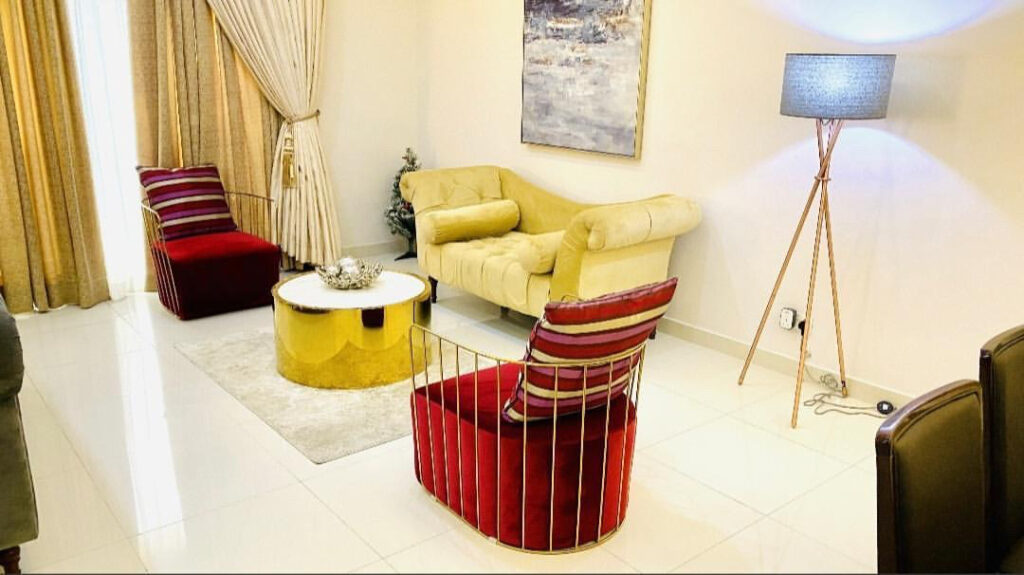 This pet-friendly residence is the short let apartment in Ikate, Lekki, that travelers can go to, when they need to feel at home and to enjoy every single moment of their stay in Lagos. The hospitality at the 3-bedroom palatial apartment is top notch and the quality of their customer service is always 100%.
Located close to major roads and some of the best restaurants, eateries, lounges and other attraction sites such as Brass and Copper and Lekki Leisure Lake, this short let apartment has all the hallmarks of a world-class holiday rental apartment.
Their amenities include a 65-inch smart TV with Netflix in the largest room and 45inch smart TV in all other rooms, a swimming pool, games room built just for friends, a large living room diner, a very spacious kitchen with cooking utensils and a large freezer, washing machine, and 24/7 electricity and security.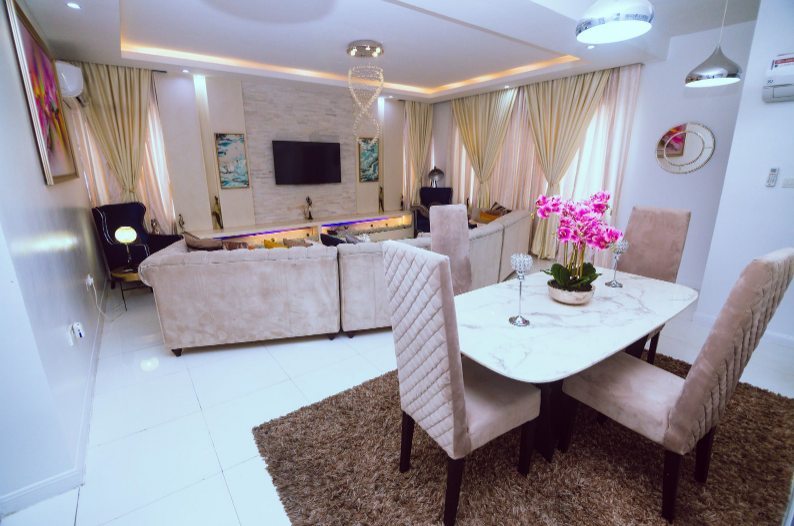 Enjoy your vacation, in super luxury and sophistication at Keji's Luxury Home, a 3-bedroom short let apartment based in Lekki Phase 2, Osapa, Keji's Luxury home is a haven of maximum enjoyment, world class hospitality and top notch service delivery that will make you feel so much at home.
Get a taste of Lagos at close-by restaurants such as Rhapsody'sand Grind Grill Cafe, while also basking in the homeliness of the classy interior design and functional amenities provided to give you an experience to never forget.
They have 24/7 power, free parking space in the facility, air conditioning system, Cable TV and Netflix, washing machine, smoke detector, comfy bed and cushy pillows, a security camera, hot tub, a pool etc.
They also allow long stays of 28 days and more.
5. Tokyo's Home Away From Home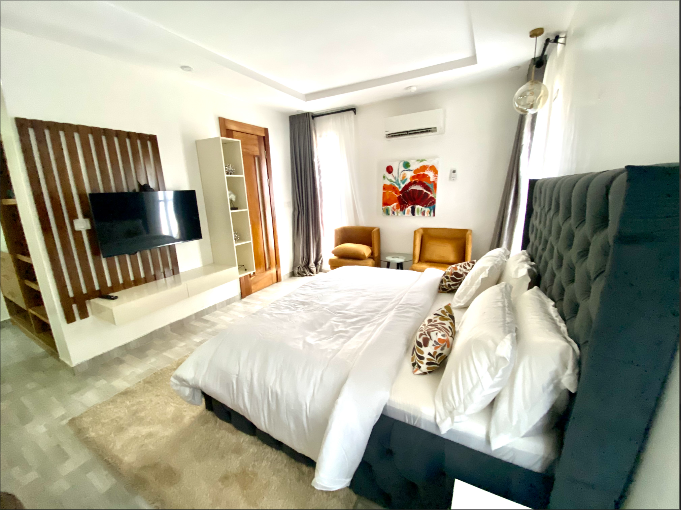 This 3-bedroom apartment is very new, super-modern, dazzling and 100% homely. It is a top-grade short let apartment in Lekki Phase 1 that speaks luxury, class and promises a lovely time.
The interior design is lovely, the 3 rooms are ensuite, there is 24/7 electricity, security cameras, WiFi, daily house cleaning, a pool, anti-Covid protocol, parking space in the facility and helpful house manager to make your time pleasant and without hitches.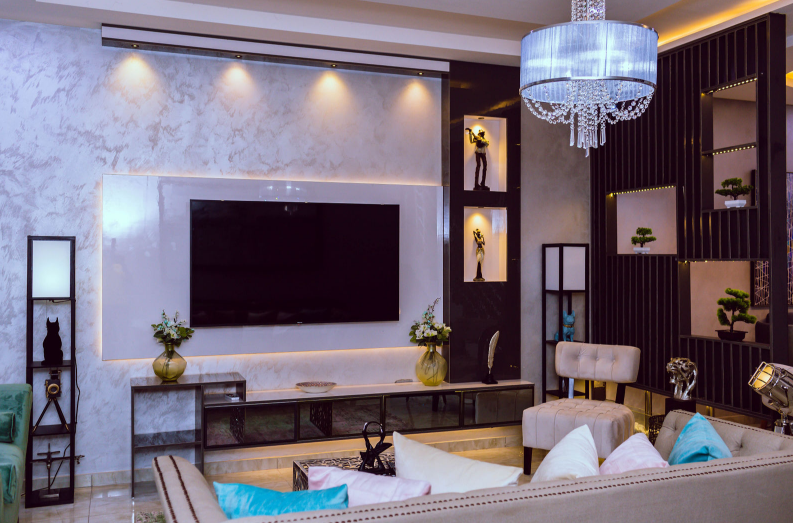 Tiara's Luxury Home in Lekki Phase 1 is a magnificent vacation rental that you can always depend on for rest, relaxation, and access to the best of what Lagos has to offer. Perfectly located in Lekki Phase 1, it makes it easy for guests to get to attractions like The Cactus, Shiro, Landmark Beach, and a host of other restaurants offering fine dining in the area.
The living arrangement has been classily put together to replicate a remarkable feeling of home even though you are far from home. Fitted with 4 beds, a refrigerator, freezer, coffee maker, a washing machine and other ultra-modern home amenities, Tiara's Luxury Home is indeed the place to be for the best view and feel of Lagos, either for a few days or for months at a stretch.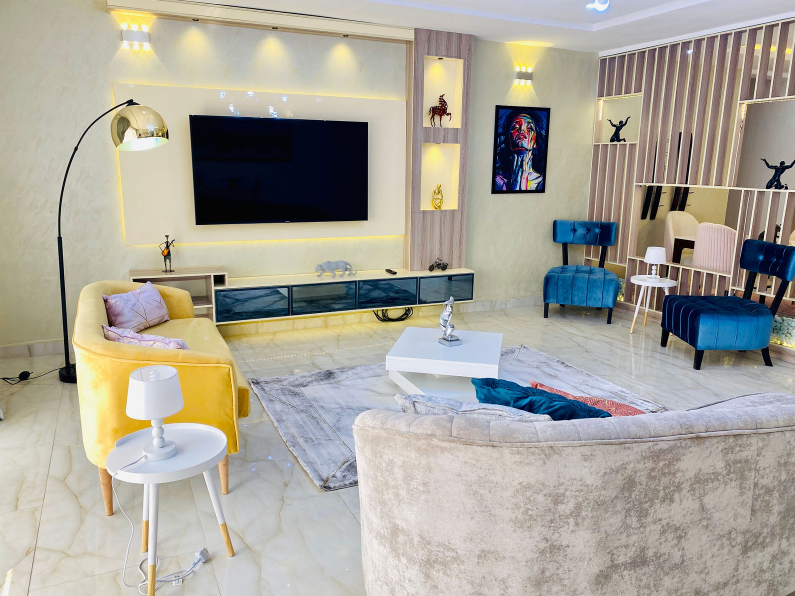 Lara's Luxury home is conveniently located just 4 minutes away from Four Points Hotel and 7 minutes from Landmark Beach. But what's even better than its prime location is the ritzy interior, the plushness of its velvet chairs, while still maintaining an unmistakable feeling of home!
Lara's 5-star Luxury Home in Victoria Island is supremely classy without losing its coziness. Not many short let homes come close to its level in Lagos. Getting fine dining during your stay there won't also be an issue as Eric Kayser, Shiro Lagos, Sugar Cane, RSVP as a host of other restaurants are just around.
8. Achikare Luxury Home Away From Home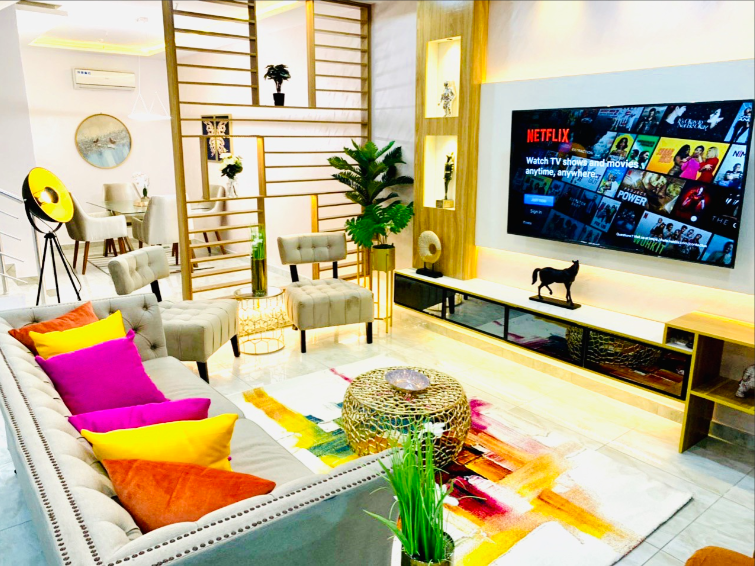 The Achikare Luxury home is located in Victoria Island, a high-brow, secure part of Lagos. It is managed by the reputable real estate moguls at Shortlethomes Ltd., who have designed the apartment and curated the space to give you an experience on the road that feels as peaceful as being at home.
You will have no trouble feeling at home in its plush beds while having access to a pool table, air hockey table, a chillaxation room to recline and feel at rest in luxury,as well as high-speed internet, security, and 24/7 electricity among all other household amenities necessary to make your holiday or stay a wonderful time.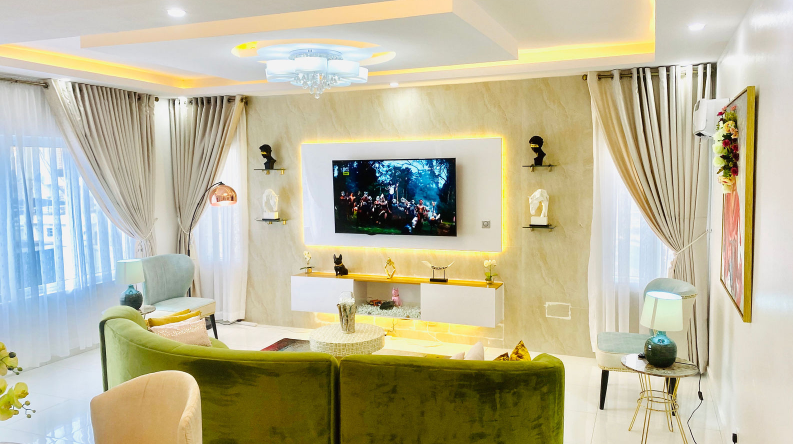 Think elegance, mind-blowing luxury, privacy and a priceless homey ambiance, and Sophia's Luxury Home fits the bill perfectly. With its captivating interior design, two driveways, swimming pool, gym, and other fully functional modern amenities, you'll be getting an absolute value for money at Sophia's Luxury Home.
They are also pet-friendly, and there is free parking on the premises as well.